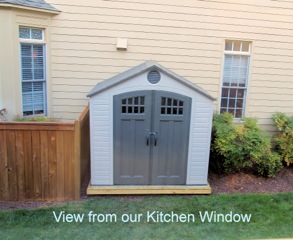 Most subdivisions around The Triangle in North Carolina have HOA's.  HOA's can be good for a community as they can and should enforce the covenants for the subdivision.  They are not supposed to discriminate against homeowners and are supposed to enforce the covenants.
Most HOA's also have to comply with other NC laws that govern HOAs.
Before you purchase a home in a subdivision with covenants make sure you read them and find out how the HOA is managed.
I personally live in a 10 lot subdivision with covenants.  The HOA has been run by 2 officers and we have not had an HOA meeting in 3 years.
Recently one of our homeowners in the subdivision erected this shed facing our house.  The shed is erected in violation of our covenants and is also in violation of the City of Raleigh codes concerning sheds.  The homeowners have applied for a waiver from the City and the HOA officers are favoring these homeowners over other homeowners in the subdivision.
So as in any situation "buyer beware".  Investigate and make sure you are making the right decision about subdivision to live in.
An eyesore like this is not something you want to embrace and endure.