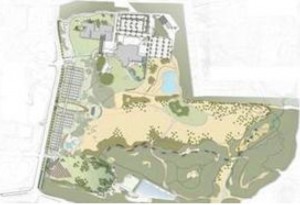 The North Carolina Museum of Art will construct a 164-acre campus, with $13 million for the first phase from an anonymous donor.
Bicycle trails, walkways, new art and a connection to the Capital Area Greenway are some of the new features being added to the re-imagined space, which NCMA Director Larry Wheeler says allows the museum "to be a catalyst of change."
The first phase will begin in spring 2015, but the museum's planning director Dan Gottlieb says the vision began in the late '80s.
"The museum had commissioned an artist and design team to imagine what the museum could be beyond its walls and they came up with 'Imperfect Utopia,'" he says. "It didn't go very far. When I started here in 1990, I took an immediate interest in the idea."
Since then, the prison, which sat on Blue Ridge Road, has come down, but Gottlieb says he intentionally had the smokestack left intact.
"It can become this kind of beacon for the museum, for Raleigh, and for the emerging Blue Ridge Corridor," says Gottlieb. "With this momentum moving forward with this big landscape plan, we have engaged Jim Hodges to work with us to re-imagine the smokestack as exactly that. There's a concept being developed for that. I can't give an exact date for when it will be revealed, but it should be within a few months."
Jim Hodges is an artist, and he's been commissioned for the work. Urban planning and design firm Civitas, Inc. of Denver, Colorado, is also on the team to develop the plan to "recreate the museum's identity along the street front, to connect what people perceive as the building to beautiful landscape and a great walkway," says Gottlieb.
Dawn Wallace  Staff Writer- Triangle Business Journal